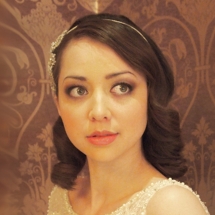 Wedding Hair
Nothing is more important than your wedding day. One of the most special days of your life, where nothing but the best will suffice!
That is the very reason we make this one of the most special services we offer.
You wedding day is a day of celebration that you will look back at over the years to come with a sense of joy and wonderment. We can make sure that you really are the most beautiful bride!
We offer a wedding day consultation where we take into account not only who YOU are - but your dress, your accessories and your desired overall look.
We offer a trial run before your special day and will be on hand to dress you hair on the date that has been set for your betrothal.
There are many styles and looks that can be worn or created for your special day and with The Terry Steventon Team - you can be confident we will get it perfect for you. Just as the rest of your day will be.
To book an appointment simply...
Call 01202 589756